Senior Mortgage Banker
OFFICE: 636-614-4599
CELL: 314-374-9608
NMLS # 1415403 / Company NMLS: 224149


947 Waterbury Falls Dr. – O Fallon, MO 63368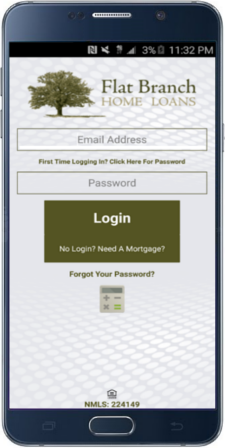 If you are a current customer of Flat Branch Home Loans our free mobile app will help you stay informed throughout the loan process like never before. Through the app you can easily access loan information and current status, have push notifications sent to you when important events occur (i.e. when the appraisal has been received, when your interest rate has been locked, when your loan has been cleared-to-close, etc.), securely upload documents, initiate a chat, view and download loan documents, and much more!




APPLICATION REQUEST LIST
Copy of Driver's License & Social Security Card (if available to you)
Pay Stubs covering the last 30 days for all applicants
Asset statements for the last two months for all accounts (need

all

pages)
Checking/Savings/Retirement, etc…
Online printouts are acceptable only in conjunction with 1 actual statement and where the URL/Web address appears at the bottom
Previous 2 Years W-2 and/or 1099 Statements
Previous 2 Years

Federal Income Tax Return – include all supporting schedules
If your student loan payments are currently in deferment or forbearance we will need proof of estimated monthly payment provided by loan servicer.
If Applicable to you:

Copy of current Mortgage Statement(s) for any loans appearing on credit
Social Security Awards letter, Retirement income or Pension

income

VA Loan Applicants will need to provide:

Self Employed Applicants will need to provide:
Previous 2 Years

Business tax returns – include all supporting schedules & K-1


If Applicable please provide:
Bankruptcy Paper's and all schedules and detailed letter explaining bankruptcy
Divorce Decree/Child Support Order

NOTE: Additional items may be requested as needed. Call with questions.